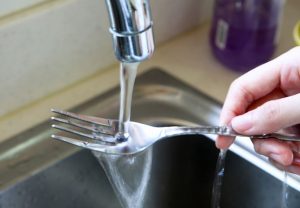 How to Clean Cutlery
With the passing years your cutlery becomes dull.  It happens when you do not wash them properly. Here are some tips on how to clean the cutlery with natural methods.
How to clean the servers?
Whether silver or steel, by passing time the cutlery tend to lose their luster, gain stains and  have traces of oxidation.  How to clean the cutlery?
Today we will explain to clean cutlery with natural methods depending on the material.
Cleaning Stainless Steel
Wash your cutlery with a special cleanser, remove any residual stains after drying , simply wipe with a cloth soaked in vinegar , while in case of stains or deposits more resistant (as for example residues between the cracks in the fork), you can immerse cutlery for a few minutes in a solution of boiling water and bicarbonate , and then rinse.
Cleaning Silver
To degrease cutlery, wash it with mild soap. Gently pass it through a soft sponge. After it is rinsed and dried, clean entire surface with a specific product for silver (possibly using cotton or wool), wait for few minutes and polish it with a cloth , finally repeat the process of  washing with mild soap and dry it with a soft satin.
How to clean the servers: HOW TO KEEP
Once cleaned all cutlery well , if you don't use it on a daily basis , put them aimed to prevent oxidation . To keep them shiny and ready to use you can keep them in their cases . There are various types and sizes according to the number of pieces of the service. Often they are in the fabric, which is better than 100% cotton , with simple forms to more complex or bag and rolled up. Another very practical method is to wrap the silverware in aluminum paper that you normally use for food, maybe in groups of 3 or 4 and then put them in the cupboard or drawer.
If you liked our advice on cleaning of the cutlery, continue to follow us on  House Cleaning Toronto service page for more help and information.Also do visit our next article regarding Cat Litter Box Self Cleaning in our blog section.