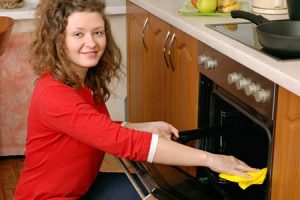 How To Clean An Oven
Cleaning an oven becomes very often a real challenge that, unfortunately, we are not always able to complete to perfection. A thorough cleaning of the oven is not just a matter of hygiene, but also a way to maintain efficient operation of your appliance. In order to clean an oven correctly as you need to know what kind of oven you should have. Electric or gas? Let's see how to clean both types of oven, starting with the most common.
To clean an oven naturally is quite simple, fast and without much effort way. You simply want an ingredient that we all have at home: the lemon. This fruit, in fact, is a powerful natural degreaser, which ensures a perfect cleaning without using toxic cleaners, not only for us but also for the environment.
To Clean an oven: what we need
Lemons: 2-3
Water: Qs
Bowl for high temperatures: 1
Sponge with retina: 1
To clean an oven: how to proceed
Squeeze the juice of 2 or 3 lemons in a bowl resistant to high temperatures. Add water in the same amount of lemon juice. Put the bowl in the oven and turn it on for about 10 minutes at 100° C (212 degrees Fahrenheit). Once 10 minutes have elapsed, you will see that the liquid in the bowl has evaporated, by dissolving stubborn dirt attached to the walls of an oven. Wait until the oven has cooled down and rubbed with a rough sponge to wipe off the oven deposits of fat, To ensure good quality cleaning also visit our next article regarding House Cleaning Tips.
How to clean a gas oven
Having difficulty in cleaning a gas oven? Don't panic. Here we have a simple tip for you to clean the gas oven in total safety and protecting of the environment. Let's see what we need and how to proceed to clean the gas oven.
Cleaning of gas oven: what we need
Baking soda: 2 teaspoons
Dish-washing liquid: 2 tablespoons
Ammonia: 1 tsp
Hot water: half cup
Cleaning of Gas Oven: how to proceed
Mix the ingredients well and apply the mixture thoroughly on the parts to be cleaned. Let it free for 30 minutes or even overnight for stubborn dirt. Finally, rinse and clean it well with a damp sponge.
 Contact us immediately, for any of your House Cleaning Toronto Services at affordable rates; help us serve you better, to make your chores more enjoyable.