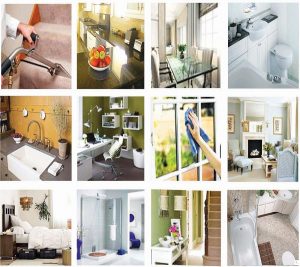 House Cleaning Tips and Tricks
How to clean the house is one of the arising question which women ask themselves on the daily basis.
Do you get any of the point where your house is a mess without end? Then it's time to roll up your sleeves, start making order and cleanliness.
But without getting dead tired till the evening, is there any best way for house cleaning?
Yes, as it's not so commonly thought to understand how to clean the house. It is always good to follow a valid guideline that helps to optimize the work time even in the clean house. This way you will avoid too much effort and being able to have a clean and tidy house  with minimal effort.
If you don't know about house cleaning, the solution is at hand: ask for help from your partner.
Tips For Cleaning Blinds?
Shutters, as like the curtains, are a real reservoir of dust. Precisely for this reason, pay special attention to the cleaning of blinds to have a clean and fragrant house.
A speedy solution is to use a soft brush to remove larger dust particles. Proceed with a soft sponge soaked with specific products are suited to the type of window blinds. Finally, wipe everything with a soft cloth to prevent stains remain on the surface.
How to clean the bedroom?
The bedroom is seems like the area of the house which is easier to clean . Certainly it's not, because in the bedroom, to eliminate the dust on shelves and tables, it would be good to devote attention to the mattress. Before making the bed in the morning, try to refresh the mattress to give a feeling of freshness and cleanliness. How to do? Simple, add a few drops of lavender, rosemary or rose essential oil in a bowl of warm water. Dip a clean cloth and slightly pass it on mattress. With this little trick your bedroom will always look sparkling.Also visit our next article regarding Kitchen Tips and Tricks at our blog section.
Tips on Cleaning Mirrors?
It is essential to give that impression of shine and clean in the house to clean the mirrors . Sometimes, it is thought that the specific products for windows and mirrors are ideal for a deep cleaning. In reality they're not.
In the best way, to cleanse windows and mirrors, use a solution of warm water and degreasing soap for dishes. In the solution-scratch, dip a soft cloth and begin to wipe the concerned surface, you will see your mirrors and glass were never that brightest before.
Tips For Kitchen Cleaning?
Plus some little tips to bring your kitchen in an ideal order. Among all  rooms of the house, an eye goes to the kitchen, the room which is always difficult to keep in order, it's hard truth. The trick is in two simple steps: wash or arrange the dishes in the dishwasher and remove all garbage.
In fact, once placed the dishes in the dishwasher, the kitchen looks much spick and span.
Same goes for the garbage: an element of space and prone to enact bad odors, which would neutralize your house cleaning job.
If you are tired of searching for house cleaning tips. Don't waste your more time over looking here and there! Simply visit  House Cleaning Toronto expert services and make your life comfortable.